HOW TO STAY HEALTHY THIS WINTER

Here's everything you need to know about strengthening your immune system and staying happy and healthy this winter.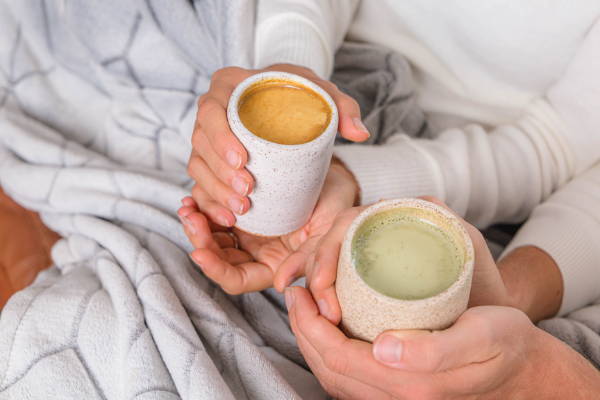 'Tis the season for sleigh bells, snowflakes, and...sniffles. As much as we love this joyous time of year, it officially means that cold and flu season is upon us. And if dashing through the snow is on your to-do list this year, there's one thing you'll want to do to stay healthy through the holidays: strengthen your immune system!
But how does your immune system work? And what's the best way to boost your immune system naturally? Here's how to support your immune system and stay healthy this winter.
HOW YOUR IMMUNE SYSTEM WORKS

Think of the immune system as your body's personal bodyguard. It's your body's main defense against disease and infections. The immune system's primary role is to protect you against anything that threatens your health, like a virus, bacteria, or other pathogens. It also helps your body recover after it's been injured.
Everyone's immune system is different, which is why one person may get sick all the time while another person never does.
 But research shows there are certain factors that can negatively impact your body's immune response. And if your immune system is weak, you're more vulnerable to infections, like the flu or common cold. Here's what breaks your immune system down:
Stress

Insufficient sleep

Smoking

Alcohol consumption

Insufficient exercise

Sugar and processed foods
---
TOP 3 WAYS TO STAY HEALTHY THIS WINTER

Without adequate sleep, your body is more susceptible to getting sick. This is because sleep helps your body repair itself by boosting the production of cytokines—proteins that help regulate inflammation and encourage other cells to fight off illnesses.
So, how much sleep should you be getting? Experts say that adults should get 7 or more hours of sleep each night, while children need between 10-14 hours.
Need some help hitting the hay? Try drinking a calming golden milk latte, and limiting screen time an hour before bed.
Too much stress can wreak havoc on your immune system. In a study published by the American Psychological Association, long-term stress (also known as chronic stress) weakens the immune system. Even worse, too much stress can cause an abundance of cortisol in your blood, which opens the doors for inflammation and infection.
If you find yourself overwhelmed with stress, it may be time for a little self-care. Here are 4 things you can do to de-stress and protect your health…
Practice meditation

Set boundaries

Eat

adaptogens

Get active
What if we told you that eating good food can help you stay healthy and happy through the holidays? Yep, it's that easy. 70% of your immune system is housed in your gut, which means eating the right amount of nutrient-rich foods can actually fuel your immune system and make it stronger. But which foods contain the most immune-boosting superpowers?
Leafy greens, antioxidants, and anti-inflammatory foods, such as turmeric and ginger, are great foods for maintaining a strong immune system. And, when you add superfoods to the mix, you get even more health-boosting benefits.
Our Detox Bundle contains 4 mixes loaded with immune-boosting superfoods. (In fact, it's based off of the same detox Kristel created to help Michael rebuild his immune system following cancer treatment.) Here's what it includes:
Super Green mix -

for immune support & micronutrients

Forever Beautiful mix

- for vitamin C & antioxidants

Golden Mellow mix

- for less stress & to help reduce inflammation

Skinny Protein mix

- for better metabolism & plant protein
In just 5 days, you can improve your sleep and reduce stress and inflammation. Are you ready to reset your health and strengthen your immune system? Get the Detox Bundle now!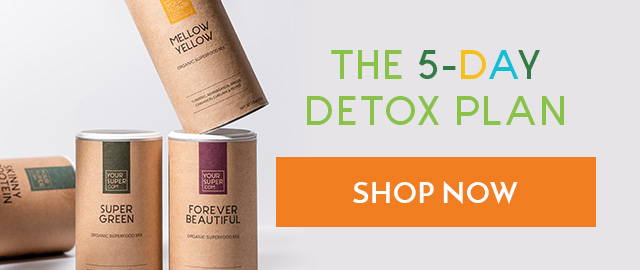 ---
---
Support your health with The Detox Bundle! This bundle includes 3 powerful, superfood mixes designed to
reduce cravings, increase energy, reduce bloating and fight inflammation.