SMOOTHIE RECIPES WITHOUT BANANAS

Think it's impossible to make smoothies without bananas? Think again! Here's how to make delicious banana-free superfood smoothies.
---
Whether you're allergic to bananas or you simply don't like the taste of them, it can be difficult to find a smoothie recipe that doesn't include bananas.
Luckily, there are plenty of ways to add creaminess and natural sweetness to smoothies without using the beloved yellow fruit.
Below you'll find some of our favorite superfood smoothies without bananas. All of these smoothies include Your Super mixes. And, as always, they're all 100% plant-based.
To make a smoothie, place all of the ingredients in a high-speed blender and blend until smooth. Pour into a glass and enjoy.
12 SUPERFOOD SMOOTHIES WITHOUT BANANAS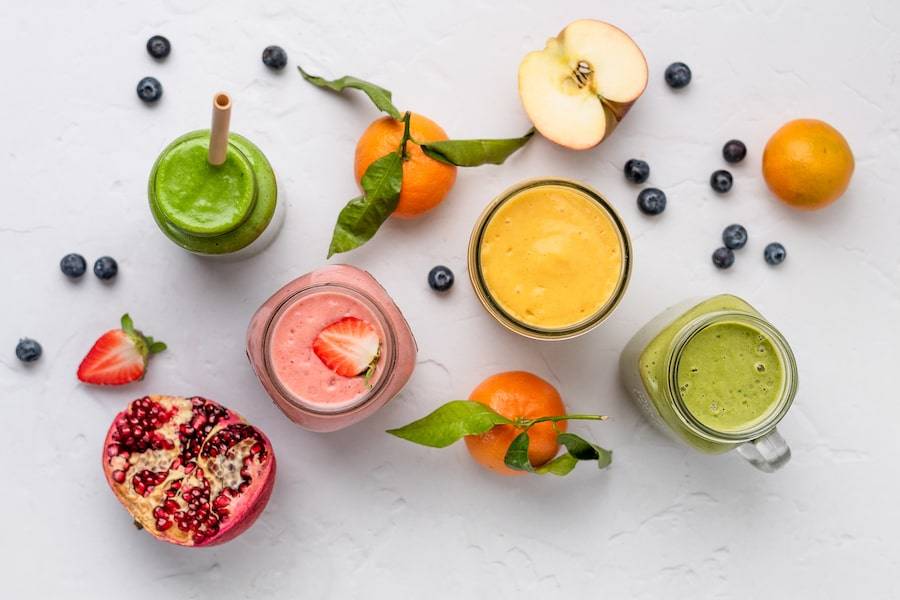 SPA DAY SMOOTHIE
Serves 1

INGREDIENTS:
2 tbsp Skinny Protein Mix
2 tsp Super Green Mix
1 cucumber, sliced
½ lemon
½ avocado
1-2 cups plant-based milk
1 cup fresh spinach
fresh mint leaves

BERRY GREEN SMOOTHIE
Serves 1

INGREDIENTS:
1 tsp Forever Beautiful Mix
1 tsp Super Green Mix
½ avocado
1 cup water
1 cup frozen mixed berries
1 cup fresh spinach

PINA COLADA
Serves 1

INGREDIENTS:
2 tsp Golden Mellow Mix
1-2 pitted dates
1 lime, juiced
1 cup coconut water
1 cup frozen pineapple

EASY BERRY SMOOTHIE
Serves 1

INGREDIENTS:
2 tsp Forever Beautiful Mix
2 tsp Plant Collagen Mix
1 cup plant-based milk
1 cup frozen mixed berries
3 tbsp quick oats

SUNSHINE SMOOTHIE
Serves 1

INGREDIENTS:
2 tbsp Plant Protein Mix
2 tsp Golden Mellow Mix
1 orange, peeled and sliced
1 cup plant-based milk
1 cup (frozen) mango

PACIFIC BLUE SMOOTHIE
Serves 1

INGREDIENTS:
1 tsp Forever Beautiful Mix
1 tsp Energy Bomb Mix
1 orange, peeled
1 cup water
1 cup frozen pineapple
¼ cup frozen blueberries

SWEET POTATO PIE SHAKE
Serves 1

INGREDIENTS:
1 tsp Golden Mellow Mix
1-2 pitted dates
½ cooked sweet potato
1 cup plant-based milk
ice

APPLE PIE SMOOTHIE
Serves 1

INGREDIENTS:
2 tbsp Plant Protein Mix
1 tsp Energy Bomb Mix
1-2 pitted dates
1 apple, cored and sliced
1 cup plant-based milk
⅓ cup quick oats
¼ tsp ground cinnamon
ice (optional)

RED VELVET SHAKE
Serves 1

INGREDIENTS:
2 tsp Magic Mushroom Mix
1 cup plant-based milk
½ cup frozen cherries
½ cup frozen strawberries
¼ tsp vanilla extract

EASY CHOCOLATE SHAKE
Serves 1

INGREDIENTS:
1 tsp Magic Mushroom Mix
1 cup plant-based milk
1 cup ice
¼ cup cashews
2 tbsp maple syrup (or 2 pitted dates)

CHOCOLATE PEANUT BUTTER SHAKE
Serves 1

INGREDIENTS:
2 tbsp Plant Protein Mix
1 tsp Magic Mushroom Mix
1 cup plant-based milk
2 tbsp peanut butter
ice

COOKIES & CREAM SHAKE
Serves 1

INGREDIENTS:
2 tsp Magic Mushroom Mix
2 tsp Plant Protein Mix
1 cup coconut milk
2 tbsp almond butter
½ tsp vanilla extract
ice cubes