ENERGY BOMB BARS: A HEALTHIER WAY TO ENERGIZE

It's time to rethink the way you energize. Introducing Energy Bomb Bars – healthy snack bars made with natural ingredients and energizing superfoods!
If you find yourself yawning between meals, and fantasizing about an afternoon nap, you're probably in need of a caffeine boost. So, you can either pour another cup of joe, which might make you crash and burn before dinner, or you can opt for a healthy snack that will support your energy and provide essential nutrients.
Power up with Energy Bomb Bars – plant-powered snack bars loaded with natural caffeine, energizing adaptogens, and antioxidants.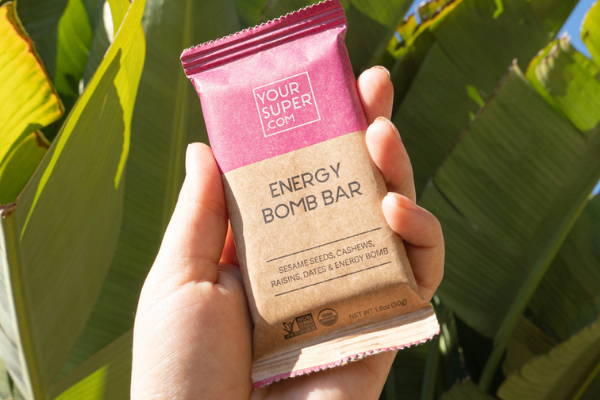 ---
HOW ARE THEY DIFFERENT FROM OTHER ENERGY BARS?

---
It all comes down to the ingredients. Unlike the store-bought stuff, Energy Bomb Bars have zero artificial ingredients, added sugar, fillers, and preservatives. In fact, they're made with only 5 organic ingredients – and that's it! Every bar contains:
Sesame seeds

Cashews

Raisins

Dates

1 serving of Energy Bomb Mix
Each serving of Energy Bomb Mix contains 39mg of caffeine, thanks to guarana – an Amazonian fruit best known for its caffeine content. Guarana contains caffeine that is 4-6 times more potent than coffee beans. However, unlike coffee, guarana is released slowly into the bloodstream, giving you long-lasting energy.

In addition to natural caffeine, Energy Bomb Bars contain powerful superfoods and adaptogens that can help improve cognitive function, balance hormone levels, improve your mood, and nourish your skin. (Can you average snack bar do that? No, we didn't think so!)
TIME TO UPGRADE YOUR SNACK DRAWER

Ready to say goodbye to midday coffee runs and sugar-filled energy bars? Upgrade your snack drawer with Energy Bomb Bars!
Whether you're working from home, working out, or on-the-go, these energizing bars make the perfect snack! Give yourself a boost before workouts and Zoom meetings, or enjoy in the morning for a quick and convenient breakfast. The possibilities are limitless! (Just like you, when you bite into an Energy Bomb Bar.)
---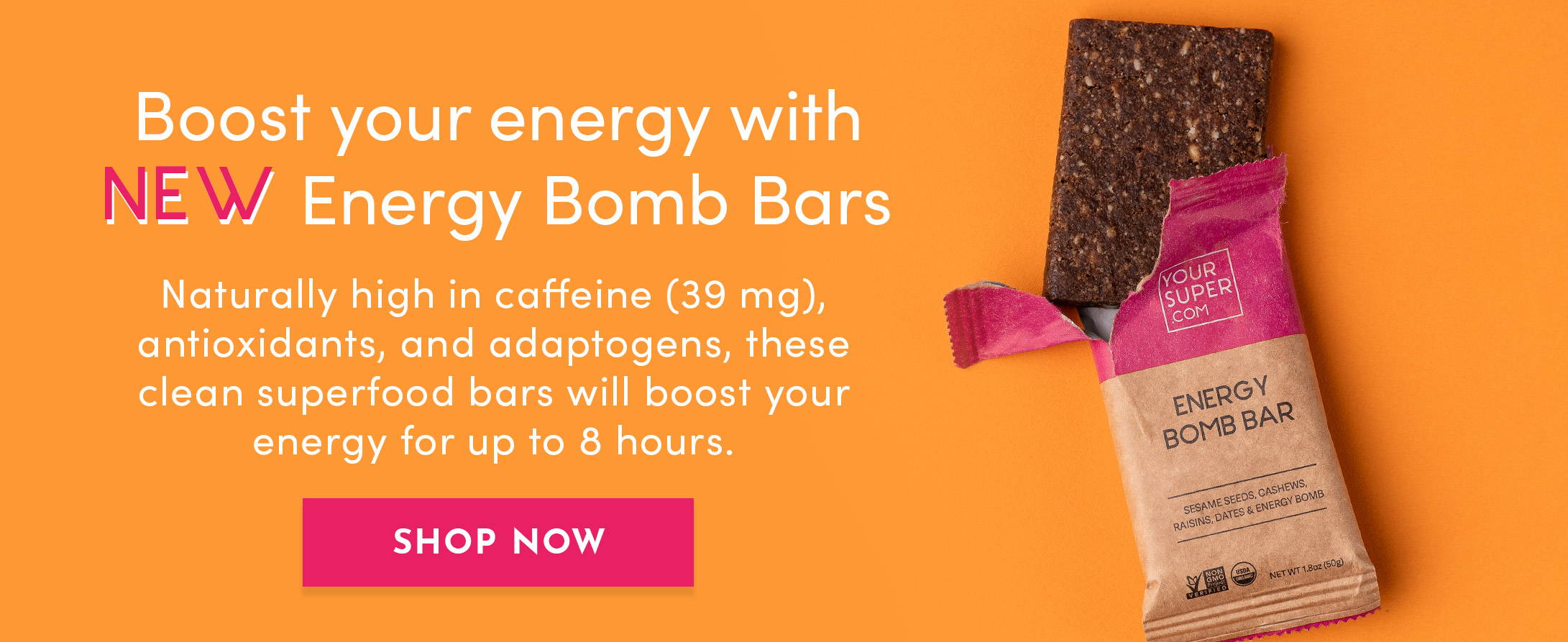 ---
---