HOW TO GET YOUR KIDS TO EAT MORE VEGGIES

Do you have a hard time getting your kids to eat veggies? We're sharing our top 4 tips for turning your picky eater into a veggie eater.
Let's be honest, getting your kids to "eat green" is no easy feat. They will almost always choose a bowl of candy over a bowl of broccoli. (I mean, can you blame them?)
And while it may be tempting to hit the drive-thru for a happy meal instead of saying "eat your veggies" for the hundredth time, we have some suggestions that will make mealtime a little less stressful for you, and a lot more nutritional for them.  
Today we're sharing our best tips for getting kids to eat more veggies.
4 TIPS TO WINNING THE VEGGIE BATTLE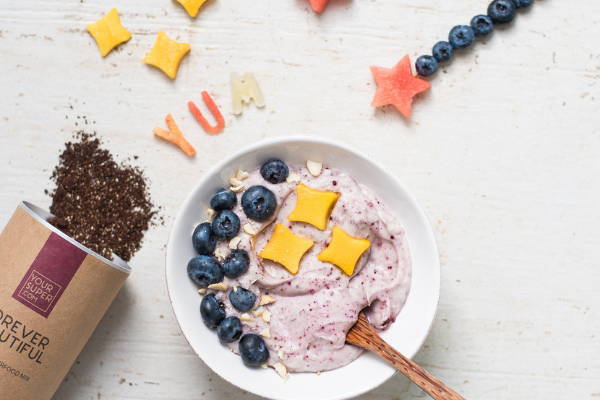 TIP # 1 - Turn Them Into A Chef
Letting your kids help out in the kitchen may be your greatest weapon in the veggie battle.
In a study conducted by the University of Alberta, children who were involved in meal preparation chose fruit and veggies more often than their non-cooking counterparts. These children also had more confidence in their ability to choose (and eat) healthy foods both at home and in school.
Not sure where to start? Try letting your little one add smoothie ingredients to the blender, or season some veggies before roasting. By the time the meal is ready, they'll be excited to try their creation. Finding kid-friendly tasks in the kitchen may seem difficult at first, but with a little bit of guidance, they'll be a chef assistant in no time!
TIP # 2 - Let Them Choose

 
We all love options, and kids are no exception. Before making dinner, try asking your child "Carrots? Peas? Or both?" (You'll be surprised at how often they want both!)
Research shows that giving children more veggie options makes them feel more in charge, and often leads to higher consumption. Next time you're in the produce aisle, let them pick out a couple of veggies. Or, if you only have one veggie at home, have them choose how it's made. "Do you want baked or steamed broccoli? Do you want broccoli dipped in white sauce or red sauce?"
There are plenty of creative ways to make your kids feel more involved in the decision-making process.
TIP # 3 - Be A Role Model

 
Have you ever noticed that kids are often more interested in your plate, than their own? Research shows that children are more likely to eat certain foods if they see their parents eating them.
So, how can you influence your little one to eat more veggies? By being a positive, veggie-eating role model! When they see you eating (or drinking) and enjoying all of your vegetables, it encourages them to do the same.
TIP # 4 - Make SUPER Snacks
A sneaky way to get your kids to eat healthy? Super snacks! From crackers to cinnamon popcorn – there are plenty of ways to hide superfoods in their go-to treats. Best of all? It keeps them away from sugary, store-bought stuff.
You can find kid-friendly superfoods in our Kids Bundle. We created this bundle to make it easier for parents (and grandparents!) to make sure their little ones get the essential vitamins and minerals they need.
No tears. No tantrums. Just happy, healthy, Super kids!
This bundle also includes 10+ kid-friendly recipes like Shrek Dip, Unicorn Overnight Oats, and Chocolate Cookies!
Are you ready to win the veggie battle in your house!?
---
---
Our Kids Bundle contains everything you and your family need to make healthy eating delicious and FUN! This bundle contains three kid-friendly superfood mixes and one kids recipe e-book!